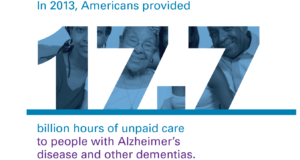 The folks at SafeinHome participated in local efforts to raise awareness of Alzheimer's disease on the "Longest Day", June 21st. This is a date chosen by the Alzheimer's Association to represent the plight of family caregivers who face the disease daily by caring for their loved ones. There are alarming facts about Alzheimer's that you need to know.
Now, co
mpared to a decade ago, there is a greater awareness of the disease. Maybe it's because of celebrities like Norman Rockwell, Charlton Heston or President Ronald Reagan getting the disease in the latter years of their lives.
Or it could be the simple fact that we now know more about the disease, as baby boomers ourselves.
Some of the facts are alarming – brace yourself as you read them.
According to the most recent study published by the Alzheimer's Association, 2014 Alzheimer's Disease Facts and Figures –
"Millions of Americans have Alzheimer's disease and other dementias. The number of Americans with Alzheimer's disease and other dementias will grow each year as the size and proportion of the U.S. population age 65 and older continue to increase. The number will escalate rapidly in coming years as the baby boom generation ages."
The study cites statistical data gathered in the United States on Alzheimer's Disease, which is the most common form of dementia, which accounts for between 60% and 80% of all diagnosed cases.
Though Alzheimer's disease was first identified more than a century ago, research into its symptoms, causes, risk factors and treatment has gained momentum only in the last 30 years.
The greatest risk factor for Alzheimer's is getting older. Most people with Alzheimer's disease are are diagnosed at age 65 or older. Read the rest here.