Yesterday, Ambassador Lisa Gable was named a "Top Woman in PR" by PR News. She was a guest for my second study series program at the Dole Institute of Politics.
Ambassador Gable is a female role model who is one of the most efficient, intelligent women I know.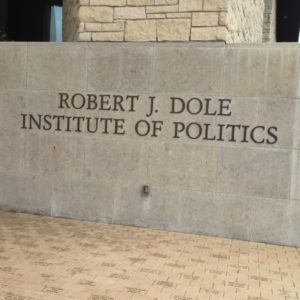 She currently serves as President of the Healthy Weight Commitment Foundation, a CEO-led initiative aimed at helping to reduce obesity, especially childhood obesity, in America. The foundation grew from 21 founding members to over 200 members in the first 24 months. She is also a National Trustee, Boys and Girls Clubs of America.
Gable achieved the rank of Ambassador when she was appointed by President George W. Bush appointed U.S. Commissioner General, 2005 World Exposition, Aichi, Japan. She moved her family to Japan and served overseas to fulfill her duties in this important role. She also had the opportunity to serve in the Reagan White House in the Office of Presidential Personnel. You can read more about her background here.
Lisa has been a mentor to many women, including me. In this session, she tells the story of how she was able to manage her work and family time – zig-zagging through life – to achieve her personal and professional dreams.
The Robert J. Dole Institute of Politics celebrates public service and promotes civil discourse and the legacy of Senator Bob Dole by providing public programming, research and educational opportunities, a museum gallery, and other offerings. Museum gallery features include the world's largest stained-glass American flag, Kansas veterans WWII memory wall and World Trade Center beams. It is home to the Robert J. Dole Archive & Special Collections, which includes over 35 years of congressional papers, as well as objects and materials from the Senator's entire life.
"In America we take pride in the past, but we live for the future. To the young people who will come here for inspiration as well as information, may you never stop reaching for the stars – whatever the difficulties."  – Senator Bob Dole, July 22, 2003, Dole Institute dedication.