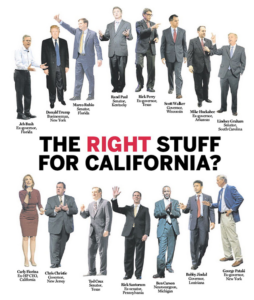 I continue to do political commentary from time to time. It's in my blood. Here's a great in-depth article by Josh Richman of the San Jose Mercury News on how the GOP field is shaping up in California. (I'm at the end so read it in its entirety!)
Wisconsin Gov. Scott Walker's campaign launch Monday means 15 GOP candidates now are seeking the White House with at least two more on the way, leaving California Republicans with an embarrassment of riches — or maybe just embarrassment, in some cases.

Donald Trump was in Los Angeles last week, Jeb Bush will be all over California this week, Ben Carson is coming to Alameda County next week, but who will still be standing next June when Golden State Republicans go to the polls for what's often a you-no-longer-matter presidential primary? And next November, who might appeal most or offend least in this deep-blue stronghold, which hasn't supported a Republican for the White House since George H.W. Bush in 1988?

Read the rest here.