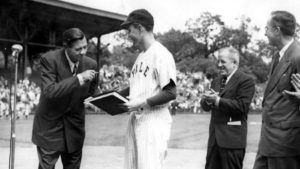 One of the more iconic moments for George H.W. Bush happened in 1948. Bush was captain of the Yale Baseball Team and Babe Ruth was donating his papers to the Yale Library.
As a die-hard New York Yankees fan, I'd seen this photo a hundred times but never fully researched the story until today.
President Bush was then-captain of the Yale Baseball team. He had played in two college World Series games – one against legendary center fielder Vin Scully, who played for Fordham a year before this photo was taken. Scully is best known as the voice of the LA Dodgers, but started in 1950 when the Brooklyn Dodgers were in New York.
But back to the Yankees and this photo.
When President Bush lost his re-election to Bill Clinton in 1992, I was a senior staff member at the Republican National Committee, overseeing Cabinet Affairs, White House Liaison and International Relations. I worked very closely with the Bush White House and met a lot of awesome public servants who are still friends today.
One of them is Ron Kaufman, who I first met in 1984 when he was Chief of Staff for then-Vice President Bush on the Reagan-Bush '84 campaign. We became friends and during the 1988 primary, he was a prominent force on the Bush campaign. I chose a different path working for another great American — Bob Dole.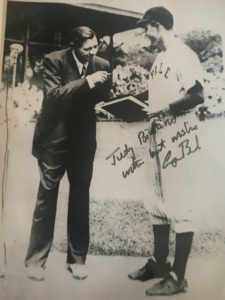 As the Bush 41 Administration was packing its boxes and preparing to exit the White House, I got a call from Mr. Kaufman asking me if I wanted a photo of Bush and Babe Ruth.
Since Ron was a Red Sox fan, he believed in the "Curse of the Bambino".  Ron knew I bled Yankee pinstripes, having grown up in Cortland, New York. As a Yankees fan for life, he knew I would appreciate it.
When I got the photo replica,  it was personally inscribed by President Bush.
I often wondered how President Bush found the time to hand-write letters and inscriptions like this. Christmas 1992, I was also blessed with a hand-written note card from President Bush to my father, which I presented with some other political memorabilia just after his treatments for prostate cancer.
Though Bush 41 hated the term "legacy", his genuine acts of kindness and gentle nature defines what is great about public service. We can never forget that.
Read more about Bush and Baseball in this wonderful article by Dan Shaughnessy.
###