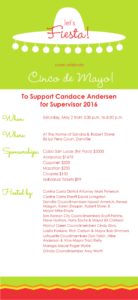 Danville, CA — On Saturday, May 2nd, Supervisor Candace Andersen is holding a fundraiser to support her campaign for Contra Costa County Supervisor in 2016.
The event will take place from 5:30 to 8:30 PM at the home of Danville Councilman Robert Storer. Get there early – we are expecting 130 people!
Join us for this "fun" event, which will honor the culture of Mexico with festive food & drink and celebrate Cinco de Mayo.
RSVP TODAY!
Please contact me at 925-847-0104 to make a reservation or go online at Lead Contra Costa to reserve your spot.
Questions? Feel free to email me directly at judy@altamontstrategies.com.