They say that politics makes strange bedfellows and that certainly was the case last Tuesday as voters appear to have retired former Assemblywoman Mary Hayashi, State Senate Majority Leader Ellen Corbett and political heavyweight Steve Glazer.
Assembly Distric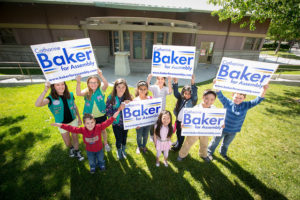 t 16: The strongest is clearly Catharine Baker, the sole Republican and top vote-getter who won with 36.5% of the vote. Baker ran a great race, raised money, and is well prepared to face union-backed Tim Sbranti, who garnered 29.7% in the sweepstakes. Latest figures show some $5.6 million spent on this race. Of that chunk of change, about a third was spent by IE's like the California Realtors PAC, JOBS PAC, and the Charter School Association on behalf of Orinda councilman and Jerry Brown consultant Steve Glazer, who fell short of Sbranti with 22.5% of the vote.
Glazer may have run the best race ever to lose in AD-16.
Watch for a classic independent-businesswoman-mom vs. owned-by-organized-labor battle here that could go down to the wire.
Five questions remain unanswered that will have a significant impact on the race –
Where will Glazer voters go? Undecided, independent voters may sway towards Baker or come home to their respective parties.
Will Glazer back Tim Sbranti – the Dem who ousted him with allegations of a bad record on the environment and ties to big tobacco? That's up to Steve. He'll likely have pressure from party.
Where will the 11% who backed Danville councilman Newell Arnerich go? My guess is to Baker. They are San Ramon Valley residents who live in a good school district and care about STEM education and their schools. Though Sbranti is a teacher, his loyalties are clearly to the unions.
Will business IE's go "all in" for Baker? The answer is "yes" if they really want a small business advocate as well as a "pro-kids, pro-classroom" vote on education funding. Parents yearn for more dollars to the classroom, rather than feeding the bureaucracy.
Will Governor Jerry Brown go in "big"

 for Sbranti or take a pass? Only Glazer knows that answer.
Read the rest here.