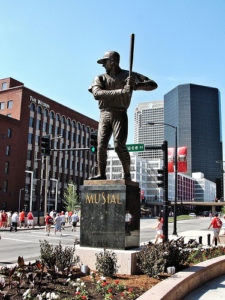 7-11-13
I am a devout Major League Baseball fan. I love the game. My son has played Little League since he was four years old, and I used to live very close to the Baseball Hall of Fame in Cooperstown.
I think I own most all of the great baseball movies: Bull Durham, For Love of the Game, Major League, The Sandlot, and The Rookie.
Being a devoted fan, I understand the value of the streak, baseball rituals, and what makes great players exceptional in the Major Leagues. Part of that is the ritual itself.
Stan Musial is in an elite group of baseball greats elected to the Baseball Hall of Fame in Cooperstown, New York. His passing this January was a huge blow to the City of St. Louis and his fans nationwide.
Musial, a devout Christian, was remembered recently by a grounds keeper at the St. Louis stadium who etched a cross and Musial's #6 onto pitcher's mound before every game.  Apparently one fan complained.
Read the rest here.