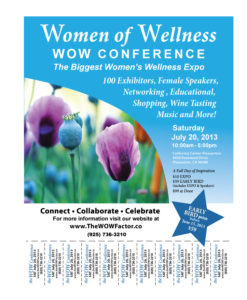 6-13-2013
I recently learned about the WOW Conference from Shelby McNamara at the Danville Chamber of Commerce and connected with the organizer, Dr. Leslie Hewitt, the Chief Executive Officer. She asked me to speak on an empowerment issue for women. Those of you who know me won't be surprised at the topic I chose.
The conference which promotes healthy lifestyle choices for Women of Wellness takes place on Saturday, July 20, 2013 from 10:00 – 5:00 P.M. in Pleasanton.
My topical discussion will focus on Women in Politics and opportunities for women to engage in public policy, political campaigns, and government service.
Currently, I serve as the East Bay Region Chair for the non-profit California Women Lead which seeks to empower women for public service roles. I'm passionate about giving women the tools they need to enter the public policy arena, having served two U.S. Presidents, the CA Governor and the San Ramon Valley school district as well as standing as a candidate for state legislature in 2008. I feel so strongly about the role women can play in their government.
At the WOW Conference, I'm going to talk about how we can all make a real difference locally in our communities, in our state and nationwide.
See the line up of fabulous women speakers here: http://www.thewowfactor.co/july-2013-speakers/
See Judy Lloyd's WOW Conference profile page here: http://www.thewowfactor.co/Judy-Lloyd/
###