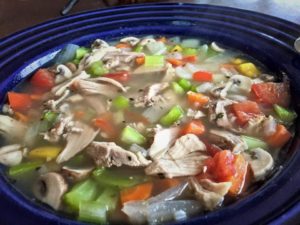 I came up with the idea for this soup last Thanksgiving.
I decided to perfect it this year using leftovers from the Thanksgiving turkey. It has simple, fresh ingredients. The secret herb which flavors the dish is Summer Savory – the perfect touch for soups made with turkey or chicken.
This recipe is the first entry in a series of Italian-inspired cooking. It will become part of the book I'm writing to honor the memory of my mother, Josephine Biviano, called Josephine's Petite Cucina.
You can download the recipe here: Hearty Turkey Soup with Summer Savory.