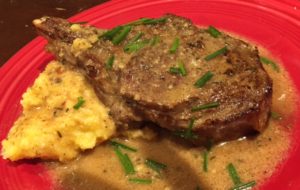 The weather in Northern California allows my husband and me to enjoy grilled meats year round. But what do you do when it's a stormy December with torrential rain that lasts three days?
The answer became apparent when we cooked this pan-seared veal chops and polenta dish. It features a touch of mustard, olive oil, and rum and is the most succulent veal chop I've ever tasted!
This recipe is the second entry in a series of Italian-inspired cooking. It will become part of the book I'm writing to honor the memory of my mother, Josephine Biviano, called Josephine's Petite Cucina. You can download the recipe here: Winter Veal Chop with Mustard, Rum, and Polenta.
From Josephine's Petite Cucina.