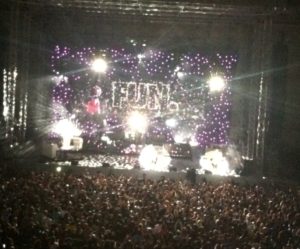 9-12-13
When you're the mom of a teenager today, there are so many things to worry about – texting and sexting, the prescription drug problem, abuse of illegal drugs and alcohol. These are modern day realities affecting our teens at both public and private schools.
Sometimes its difficult to gain your teen's trust. I remember when I was a teen doing some inappropriate things, getting caught, getting grounded for 40 days and 40 nights of the Lenten season (I'm Catholic) and now being a bit strict with my own son as a result.
One thing that keeps me young and connected to my teen is our mutual love of music – especially rock and roll. My first concert was Hall & Oates in 1978 at Clarkson University.
My son's first concert was Jimmy Buffett at the Oakland Coliseum when he was only six years old. Buffett actually pointed at him on his father's shoulders at the show during "Margaritaville", touched his wrist like he was touching his watch, and said: "time to put the kids to bed!"
Read the rest here.