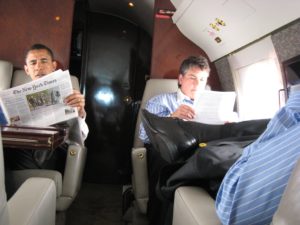 What's it like to meet the Pope? Or Jimmy Buffett?
Ellie Schafer knows. She's the Director of the White House Visitor's Office and someone I have known for more than 20 years. She has a very unique and interesting story which began when she was the face of "Mr. Bubbles", around age five.
Since then, she helped her father, a Republican, become Governor of the State of North Dakota and did advance work for the Dali Lama prior to working for Senator Barack Obama on his book tour, prior to his becoming President.
Now, she's on First Family detail, running the White House Visitor's Office and is a top adviser to the President of the United States. She has revolutionized the way the White House Visitor's Office works.
This interview at the Dole Institute of Politics was one of my favorites at the University of Kansas. It's a story of bipartisanship and friendship. Through the years, we have worked against each other for different candidates in different parties, but I'm so proud of what Ellie has achieved.
Watch it here. I hope you enjoy it as much as I do!
The Robert J. Dole Institute of Politics celebrates public service and promotes civil discourse and the legacy of Senator Bob Dole by providing public programming, research and educational opportunities, a museum gallery, and other offerings. Museum gallery features include the world's largest stained-glass American flag, Kansas veterans WWII memory wall and World Trade Center beams. It is home to the Robert J. Dole Archive & Special Collections, which includes over 35 years of congressional papers, as well as objects and materials from the Senator's entire life.
"In America we take pride in the past, but we live for the future. To the young people who will come here for inspiration as well as information, may you never stop reaching for the stars – whatever the difficulties."  – Senator Bob Dole, July 22, 2003, Dole Institute dedication.