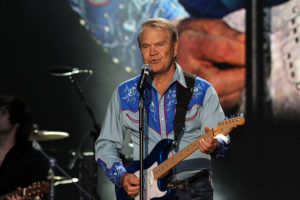 Country music superstar Glen Campbell is doing what he can with the time he has left.
Earlier this month, Campbell announced that a documentary of his last shows and battle would Alzheimer's would debut on October 24th in theaters.
Filmmaker James Keach has documented every moment – good and bad. The documentary encompasses 151 shows with 1300 hours of footage, and features superstars like Bruce Springsteen, Taylor Swift, and Keith Urban. In the documentary, Campbell talks about his battles with substance abuse and his diagnoses with Alzheimer's. Read the rest here.