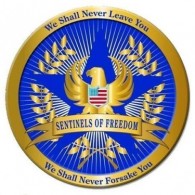 11-11-13
Veterans Day is a day when we thank our veterans for their service. Some small businesses offer discounts to veterans and their families as an act of gratitude and acknowledgment of their service. These generous acts often take place on one day or in one week.
However, there are some organizations who give back to our veterans year-round. One such organization which recently won CNN's Hero Award is the Sentinels of Freedom, based in the San Ramon Valley in California.
The Sentinels of Freedom Foundation helps those most severely wounded in Iraq and Afghanistan and was founded by my friend Mike Conklin, father of three Army Rangers, who was inspired to start the organization after one of his sons was injured a decade ago in Iraq.
The work that this organization does for returning veterans who have served and bear the scars of war is nothing short of phenomenal. I think you'll find Mike's letter at the Sentinels website inspiring — read the rest here.