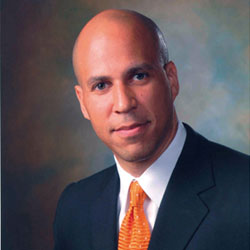 8-13-13
Newark Mayor Cory Booker seems to be the tasty flavor of the month for Democrats. Booker is running for the United States Senate in New Jersey and is expected to coast to an easy victory in today's Democrat primary.
Mayor Booker is exceedingly popular with New Jersey's electorate, having approval ratings in the high 6o's. He's rescued people from burning buildings, fixed potholes, and seems to be that kind of public servant everyone wants to hang around.
Actress and Latina entrepreneur Eva Longoria recently fawned over Booker at a fundraiser in New Jersey. It doesn't get much better than this!
Read the rest here.