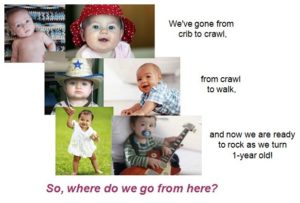 7-3-13
I'm proud to report that ThoughtfulWomen.org, a new media, niche publication for women, has hit 2.3 million readers as of its one year anniversary today!
As the photo graphic shows – we've gone from crib to crawl – from crawl to walk – and now we are ready to rock!
Looking back to the first day of our journey allowed me to reflect on why we are here and why we are growing.
Thoughtful Women started because we thought the liberal media's War on Women needed some balanced commentary on issues women care about – their family budget, their health care, working in and out of the home, and our personal security – to name a few.
At the end of our first month, an average of 825 people had visited the website and read our stories each day, with 23,925 people participating in our daily polls and discussions both on the website and our Facebook page.
Today, a short year later, more than 11,000 readers visit us each day. More than 240,000 women and men have become fans on Facebook. See more at www.ThoughtfulWomen.org.