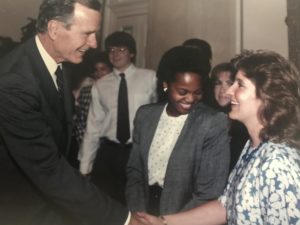 Today's heartfelt goodbye to President George H.W. Bush was a tearful reminder of a genuine leader who believed in pragmatism, bipartisanship and service.
President Bush made everyone he met feel like that they were the most important person in the room. This was certainly true of me in this photo, taken in Senate Majority Leader Bob Dole's office in the U.S. Capitol.
Here's why that's important.
President Bush used #CAVU — "Ceiling and Visibility Unlimited" — to define his approach to life.
Senator Dole's theme was similar — "Through the Stars Through Difficulties".
Both these themes mean getting beyond what you think you can accomplish to accomplish greater things.
On the front lines, I witnessed the primary fight between Bush and Dole in 1988 and had the rare opportunity to see the coming together of these great men after Bush became President.
Bush and Dole were great leaders of our nation who embody certain traits — humility, truth, dignity, country, decency and a sense of honor. These traits appear somewhat lacking among some of today's leaders.
I know I got into government and politics for the right reasons. Yet some days, it is harder than others to see the good in political leaders today with bickering, belittling and partisanship taking a front seat.
In my younger years, I would ask myself: "Should I be an observer of greatness or try to emulate it?"
As we honor President Bush 41, my prayer for our country is that we, as citizens, do our level best to get back to the days when your word was your bond and a handshake was sufficient.
Maybe we could all reach for the stars, keeping the #CAVU lesson in our hearts and at the forefront of our minds through good deeds and daily acts of kindness.
Thank you, President Bush, once again, for a life of inspiration and purpose.
###