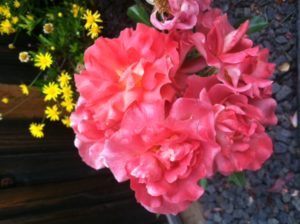 9-11-13
Like many Americans, I'm continually reflective on the days just prior to 9-11 each year. I couldn't sleep last night and found myself waking around the time the second plane hit the World Trade Center twelve years ago. That's early on the left coast.
On 9-11-01, I was asleep in my bed at the time the first plane hit. My husband arose early that morning for a workout at the gym. My four year old son had wandered into my room to cuddle just before dawn. My husband never got to his workout because he was listening to the radio and heard the news of the first plane penetrating the World Trade Center. He pulled off the road, nearly physically ill, and headed back home.
I woke to the sound of my husband running up the stairs at our home to turn the television on. At that time, the replay of the first plane hitting the World Trade Center was on television. Drowsy from sleep, I thought it was a lone pilot suicide until my husband yelled: "Judy, it's a terrorist attack. Someone hijacked the plane from Washington."
Just then, the second airplane hit and we could see the debris of the World Trade Center crumbling before our very eyes. I had forgotten that my husband's parents were traveling in NYC, staying in Manhattan at the time.
Read the rest here.