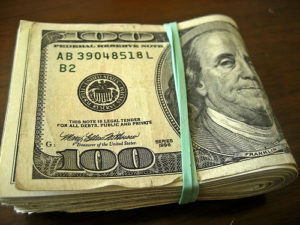 SafeinHome is the answer for people who want to make sure that Mom is OK 24/7.
But this isn't the only reason to use the SafeinHome system – it's really about money and your family budget.
Here are some compelling reasons why you can't afford not to have SafeinHome.
If your family is like mine, you've probably planned for your family's future and aging in place.
What you may not have anticipated is the high cost of caregiving – and how that is increasing exponentially.
These facts are well documented and well known –
The national average monthly base rate in an assisted living community was $3,550 or $42,600 annually.

The national average daily rate for a private room in a nursing home was $248 per day or $90,250 annually.

The national average hourly rates for home health aides was $21 or $21,840 annually – based on 4 hours per day, 5 days per week

The national average daily rate for adult day services was $70, annual rate $18,200- based on 5 days a week

Source: 2012 MetLife Market Survey of Long Term Care Costs
Staggering, isn't it?
Denise Yarmlak, the marketing director at SafeinHome has done extensive research in this area and added the following –
Assisted Living is the new Nursing Home.

Today, most seniors requiring long-term care enter Assisted Living Facilities rather than traditional nursing homes due to cost and availability of  beds.

The average age of residents in Assisted Living Facilities is 86 years old. About half of these facilities provide Alzheimer's and dementia care – and 60% of those charge an additional fee, according to the literature.
It all adds up and it gets more expensive the longer our parents are around.
But we want them around – right?
The value of SafeinHome is not just its economic cost in comparison to assisted living and nursing homes – which come with limitations, bureaucratic red tape, and additional fees.
The SafeinHome system saves you time, gives you peace of mind and helps let your loved one live at home longer.
This puts you in charge of your loved one's care.
It works on your smart phone, tablet or computer. Its easy setup includes motion sensors in your Mom or Dad's home.
You can choose from different packages that fit your family's needs.
It's not obtrusive. In fact, the senior doesn't need to take any action.
They can just live their lives as they normally do. And you can tell what their day looks like using your smartphone.
Visit the SafeinHome home page to see demos of how the app works.
Really, you can't afford not to have it as a family caregiver.
Photo credit: Flickr Creative Commons